The White House is officially "dismayed" tonight following the announcement that the Israeli government intends to build 900 new housing units inside of a settlement in Jerusalem.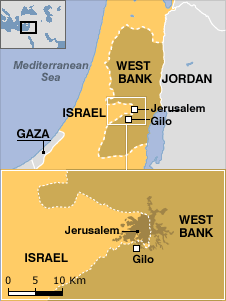 The hotly disputed territory of Gilo, where the new settlements will be built, lies in East Jerusalem. The region was captured in the 1967 Six Day War, and has been annexed by the Israeli government.
That annexation, according to Israeli officials, puts the settlement construction in a different category than the rest of the West Bank. They maintain, despite a complete lack of international recognition, that Gilo is part of Israel proper and that despite Jerusalem's planning committee treating it like a settlement expansion, and the international community recognizing it as a settlement, it isn't technically a settlement.
Rather officials say that Netanyahu's trademark "restraint," a euphemism for his hypothetically offered three month freeze in new building permits in the West Bank ex-Jerusalem, doesn't apply in Gilo, and that the international community has no right to criticize any construction in Jerusalem.