Speaking today in the wake of a meeting with NATO Secretary General Anders Fogh Rasmussen, British Prime Minister Gordon Brown has said that he expects another 5,000 troops from NATO's European member nations to be sent to Afghanistan.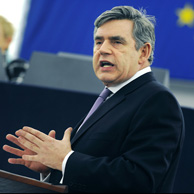 It is being reported that Brown has ordered Defense Secretary Bob Ainsworth to proactively lobby NATO member states to commit more troops to the war effort, in conjunction with the widely expected US escalation.
Exactly where all these troops are going to come from is unclear. Britain has pledged an additional 500 troops to the war effort, and Germany another 100. France is a likely source of some additional troops, but the Netherlands, another big contributor, is looking to exit the conflict.
The 5,000 troops, assuming they materialize, would be in addition to President Obama's yet to be announced escalation, expected to be at least 30,000 troops. The Obama Administration conducted a 21,000 troop escalation this summer, and violence in Afghanistan continued to rise at an alarming pace throughout that escalation.