A car bomb struck a crowded marketplace in Charsadda, just north of Peshawar, today killing at least 34 people and wounding over 100 others, many of them women and children.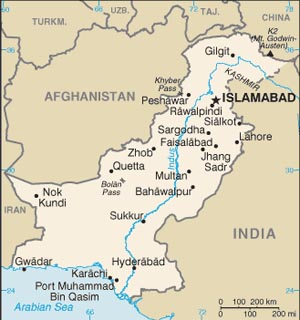 The attack tore through the produce market, tearing off roofs and shattering windows,. So far no one has claimed responsibility for the attack, but officials assume it was the Tehreek-e Taliban Pakistan (TTP).
Yesterday, a bomber hit a police post inside Peshawar, killing three people. The day before that, a livestock market south of Peshwar was hit, killing 15 people including a high profile local leader.
A key city along the Khyber Pass, Peshawar has been not just beset by violence, but has had to absorb millions of refugees from the on-again off-again wars around the North-West Frontier Province and the easternmost portion of FATA. Though the Pakistani military's more recent wars have taken it further west in the FATA, it seems that Peshawar remains a primary target.