Last Updated 11/8 6:45 PM EST
A suicide bomber attacked a livestock marketplace in the Peshawar suburb of Adezai, killing 15 people and wounding 42 others. Most of the casualties appear to have been civilians, shopping for food for the upcoming celebration of Eid al-Adha (Nov 27).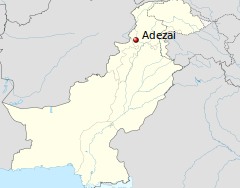 The attack took place in front of the guesthouse of the presumptive target, Abdul Malik, the nazim (mayor) of the nearby Mattani union council. Malik was mortally wounded in the attack, and died in the ambulance on the way to the hospital.
Malik was originally a supporter of the Pakistani Taliban, but later became an outspoken opponent, going so far as to raise a lashkar (tribal militia) to fight against them. He had reportedly survived around 20 assassination attempts over the past several months.
The Tehreek-e Taliban Pakistan (TTP) claimed credit for the attack over the phone, and confirmed that Malik was indeed the target, citing his raising of a lashkar against them. The attack is just the latest in a large number of high profile TTP attacks since the government launched its invasion of South Waziristan last month.