After rumors that it had rejected a draft nuclear agreement drew outrage from Western diplomats and calls for more sanctions against the nation, the Iranian government today announced that the secret communique delivered to the IAEA wasn't a formal response to the pact at all, but rather an informal expression of its "positive attitude" toward the proposal and desire to hold more talks regarding it.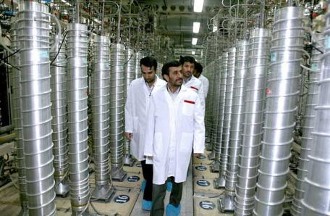 The draft agreement would have Iran ship the bulk of its low-enriched uranium stockpile overseas for further enrichment so it could be used in a Tehran facility to create medical isotopes. The deal was initially proposed by Iran, but certain details are reportedly a stumbling block, particularly France's involvement in the process as they previously reneged on a nuclear deal with Iran and Iran is suspicious that they will refuse to return the uranium once obtained.
France responded to Iran's clarification today by angrily demanding that Iran immediately produce a written formal response to the draft proposal, and appeared to rule out any further negotiations over the details.
The US likewise warned Iran that "time is not unlimited" to continue negotiations. Iranian officials seem to be looking for some kind of guarantee that they will not simply be left high and dry after shipping their nuclear stockpile abroad, Western officials seem uninterested in making a deal unless it includes Iran immediately handing over that stockpile. Whether there is troom to satisfy both sides remains to be seen.