In a rare American attack outside of Pakistan's North and South Waziristan Agencies, US drones attacked what officials are calling a suspected militant hideout in the tiny Bajaur Agency, killing at least 27 people.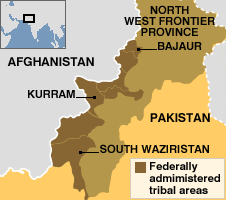 Pakistan announced just last week that it was launching a new military offensive against the agency, despite the fact that they declared the region "Taliban-free" only a few months prior and had been lauding it as an example of a successful military operation.
Bajaur is on the periphery of the Swat Valley, and today's strike is the first attack on Eastern Pakistan since June of 2008, when US warplanes attacked what turned out to be a military checkpoint, killing at least 11 soldiers in Mohmand, just a few miles from the site of today's attack.
An attack so far outside their normal targets may suggest the Obama Administration is finally moving ahead with their long-threatened escalation of drone strikes across the border with Afghanistan. But while Pakistan's military has warned them not to attack the major city of Quetta, they haven't publicly said anything about tiny Bajaur.