Pakistan's military offensive into South Waziristan is only 48 hours old, but it is already yielding massive civilian hardships among the nearly 200,000 locals which have fled the region.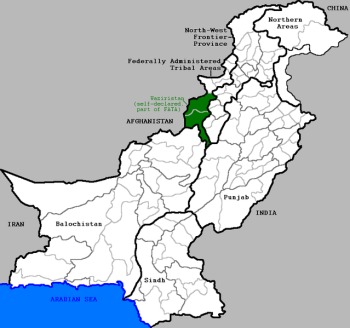 Those that are able have rented housing or are staying with relatives. For the rest, there has so far been absolutely no formal aid and with the first snowfall likely just weeks away, the displaced are rapidly adding up to another refugee crisis.
It's just one of many in recent Pakistani history. Last year's Bajaur offensive displaced hundreds of thousands, and the Swat Valley incursions this summer left millions without homes. The city of Peshawar has had to deal with pretty much permanent tent city surrounding it, housing refugees in squalid conditions.
Today's refugees are almost exclusively members of the Mehsud tribe, and many of them are seeing themselves as being persecuted by the national government as part of the clash with the Tehreek-e Taliban Pakistan (TTP), which are themselves chiefly Mehsuds.
It would be hard to argue that the government doesn't have an axe to grind with the tribe right now: one of the nation's top court battles is a challenge to mass arrest orders against members of the tribe, at the same time the government hasn't exactly sprung into action to help the refugees it has created in its assorted other invasions, so it is tough to conclude if they're handling this any worse than any of the other refugee crises.