The 575-page Goldstone Report, a report on war crimes by the Israeli government and Hamas during the January Israeli invasion of the Gaza Strip, has been formally endorsed by the UN Human Rights Council in a 25-6 vote.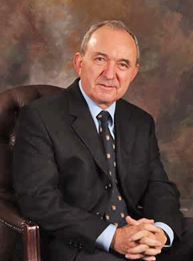 The report will now be referred to the United Nations Security Council, where assuming it is even brought up for a vote it will almost certainly be vetoed by the United States, which has repeatedly and vociferously parroted Israeli objections to the report.
Israel has insisted that the report, penned by a group of experts led by South African Judge Richard Goldstone, is biased despite the fact that it faults both Israel and Hamas over the massive civilian toll. Israeli officials have also insisted that Goldstone, who is Jewish, is an "anti-Semite" for issuing a report so critical of Israel.
Israeli Prime Minister Benjamin Netanyahu, who cited the report frequently in a screed condemning the United Nations last month on the assembly floor, has warned the rest of the world that it had better reject the accusation of war crimes, because so many of them are involved in similar wars and might face similar charges if the precedent is set.