A week of almost unprecedented violence in Pakistan showed no signs of slowing today, as suicide bombers attacked the Central Investigation Agency (CIA, not to be confused with its American counterpart) building in Peshawar, killing at least 14 and wounding 21 others.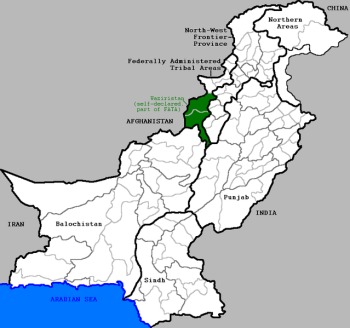 The attack came as three attackers, one with a car bomb, another with a motorcycle bomb and a woman with a suicide vest who jumped off the motorcycle, hit the compound and tried to attack the housing complex where forced lived.
The strike was just the latest in a series of bold attacks across the nation over the past week which has now left over 170 killed and an unknown but significant number wounded. The Tehreek-e Taliban Pakistan (TTP) is believed to be responsible for all of the attacks.
The sudden upsurge in violence comes as the Pakistani military has been preparing for what is being called an "all out offensive" against South Waziristan, the TTP's most important region. Though the group has previously seemed content to simply wait for the offensive to begin and fight off the security forces, this time they seem to have beaten them to the punch.