Officials have been saying since yesterday that the ground invasion of South Waziristan Agency is less than 24 hours away, but it is becoming increasingly difficult to say which side, the Pakistani military or the Tehreek-e Taliban Pakistan (TTP), is actually on the offensive.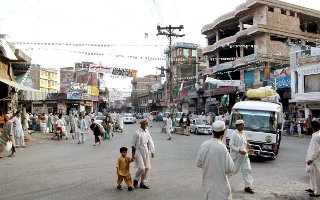 Today, a suicide bomber in the restive Swat Valley targeted a military convoy passing through a crowded market, killing at least 41, mostly civilians. The toll is expected to rise further as many of the dozens of wounded are said to be in critical condition.
The Pakistani military has fought an operation in the Swat Valley all summer, driving millions of civilians from their homes in the aim of rooting out the relatively small TTP auxiliary group in the area.
But officials had claimed the Swat Valley TTP's back had been broken a month ago, and have been promising Swatis a return to normalcy.
And today's attack is just one of many high profile strikes in the past several days. A similar market bombing in Peshawar on Friday killed 52, and on Saturday the TTP managed a frontal assault on the Pakistani Army's headquarters in Rawalpindi, killing several soldiers and sparking a day-long siege inside the base.
Though officials say this is all the more reason to launch the South Waziristan offensive, it must inevitably be asked: if the Pakistani military can't keep its own headquarters from being infiltrated, and even the region that the military claimed victory in isn't safe, what good will this latest offensive possibly do?