At least 15 suspects were killed and 16 others were injured today when the Pakistani military launched what it is calling "Operation Sherdil," yet another massive offensive in the tiny Bajaur Agency.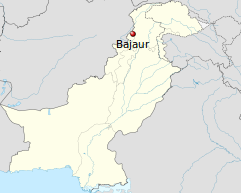 The tiny agency saw an enormous offensive last year, and declared the region "Taliban-free" earlier this year, though violence in the region has continued pretty much unabated, just at a lower level.
The military's "victory" in Bajaur came after the Tehreek-e Taliban Pakistan (TTP) declared a unilateral ceasefire, but was used as the basis for the much broader offensive in the nearby Swat Valley, leading the military to displace millions of civilians from their homes in another offensive which, as evidenced today, didn't stop the TTP from launching attacks.
But Bajaur itself is tiny, much smaller than the average American county, and likely puts additional pressure on the Pakistani military to prove itself. If, after years of fighting they can't even pacify their smallest agency, what chance do they have in the larger agencies of the FATA?