Last Updated 10/10 1:00 PM EST
A suicide car bomb was detonated in Peshawar's massive Khyber Bazaar today, killing at least 52 people and wounding over 100 others. The attack overwhelmed local hospitals and demolished a good portion of the bazaar.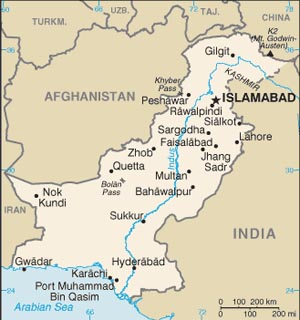 The primary source of supplies for NATO's ongoing war in Afghanistan is the Khyber Pass, which goes through Peshawar, and the city has also been overwhelmed with millions of refugees from the assorted US-backed Pakistani military offensives along the Afghan border.
So far no group has claimed credit for the bombing, but Pakistan's Interior Minister Rehman Malik seemed to lay the blame on the Tehreek-e Taliban Pakistan, saying the attack proved all the more the need to launch further attacks in South Waziristan.
In a separate attack overnight in Peshawar, militants also destroyed five NATO supply vehicles in a garage. It seems that despite repeated crackdowns by Pakistan's security forces, Peshawar remains an incredibly dangerous place.