A day after the White House promised that it wasn't even considering ending the war in Afghanistan, President Barack Obama added to the limits placed on the debate, insisting that he also wasn't considering reducing troops or shifting the mission to one merely of hunting terrorists.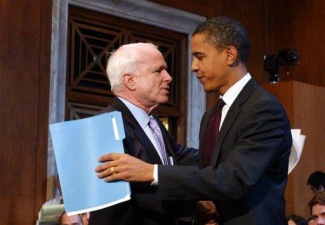 Obama sought to reassure about Vice President Joe Biden's strategy, which Gen. McChrystal declared was a recipe for "Chaos-istan," insisting it would involve keeping the 68,000 troops on the ground in Afghanistan while adding to the strikes along Pakistan's border.
His comments seemed to win over the Republicans in Congress, and Minority Whip Eric Cantor insisted the Republicans would back Obama on an escalation.
Such support is likely key, as many Democrats express skepticism over the wisdom of continuing a failing war without any concrete goals or exit strategy, and it seems the President may have to turn to a coalition of more hawkish Democrats and opposition Republicans to sell his continued occupation of Afghanistan.