Following several months of delays, the European Union finally released its official report on the 2008 Russo-Georgian War, concluding as was previously reported that the Georgian government's shelling of Tshkinvali started the conflict.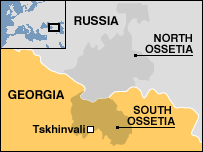 Also as expected the report faulted the Russian government for retaliation "far beyond the reasonable limits of defense" when it essentially destroyed the entire Georgian military in response to the incident.
Both Georgia and Russia lauded the report, saying it vindicated their respective positions with regard to the war. A spokeswoman for Russian President Dmitry Medvedev said the commission's conclusion was what "Russia has clearly and repeatedly stated."
Georgia however told a different story, with its official statement claiming the EU had proven that the war was all Russia's fault and that any Democratic nation would have launched the same attack as Georgia did in the face of "invasion." The EU commission responded to the claim by noting that the group was never able to substantiate claims of a Russian invasion before the shelling.