Several high profile Israeli officials publicly castigated Russian President Dmitry Medvedev today for the later's interview on CNN's GPS with Fareed Zakaria in which President Medvedev claimed to have received assurances from Israeli President Shimon Peres that his nation would not attack Iran.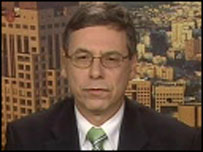 Israel's Deputy Foreign Minister Danny Ayalon hit out at the comments, saying President Medvedev "is certainly not authorized to speak for us, and there is no change whatsoever in Israel's policy." Ayalon added that Medvedev must have "misunderstood" what Peres said.
Israel has been threatening to attack Iran for years over its civilian nuclear program, and its officials have repeatedly compared Iranian President Mahmoud Ahmadinejad unfavorably with Adolf Hitler. Medvedev claimed Peres had assured him that Israel was "a peaceful country" and would never think of attacking Iran.
Israeli military chief Lt. General Gabi Ashkenazi also chimed in today, insisting that Iran with nuclear technology was a threat to the entire planet and insisting that the nation had not abandoned the idea of attacking Iran at some point in the near future.