It didn't take long to see the fallout from Monday's US incursion into Southern Somalia. Just days later insurgents launched a deadly car bombing against an African Union (AU) base, killing at least 16 people.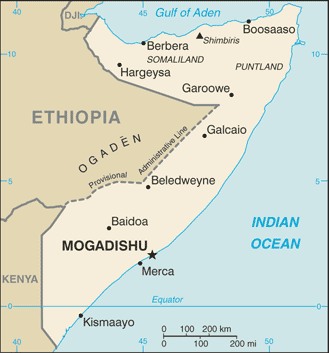 It has underscored just how fragile the AU force in the nation is, but the attack has also led to yet more calls for international intervention by both the AU and the self-proclaimed Somali government.
AU envoy Nicolas Bwakira conceded that the organization doesn't have the capacity to continue its apparently endless nation building mission, and says now is the time for the "international community to really come forward."
The Somali Defense Minister, a warlord who goes by the name "White Eyes" cautions that several more car bombings like yesterday's could be in the offing, noting that several UN vehicles have been captured by the insurgents. Already heavily supplied by the US, the Somali government has been pressing for more international forces as well to seize control of the nation on its behalf.