Following confirmation by the French military that they definitely weren't in the process of invading Somalia, the United States military is now confirming that it is, in fact, American forces that are pouring into the southern portion of the country in a helicopter-backed invasion.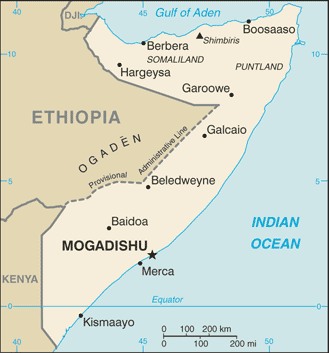 US military officials confirmed to the Associated Press today that forces from the US Joint Special Operations Command had invaded the lawless African nation, and were the ones responsible for the attack on the tiny village near Barawa this morning that was the first staging ground of the attack.
What the officials wouldn't comment on was exactly why the United States, which launched a failed "peacekeeping" operation in the nation in 1993 and backed an Ethiopian invasion in 2007, had decided to launch yet another foreign adventure, though media outlets speculated that it was probably something to do with al-Qaeda.
The United States has recently been supplying the self-described Somali "government" with "tons of arms," according to the State Department. Yet reports on the ground suggest that forces loyal to this faction, which only controls a handful of city blocks in the capital city of Mogadishu, have generally just sold the US-supplied weapons on the open market.
Though without any concrete information about what the American military actually intends to do in Somalia it will be difficult to speculate about the size and scope of the invasion, with roughly 200,000 soldiers committed to Iraq and Afghanistan (and more escalations on the way in the later) it seems hard to imagine the nation is looking to commit to yet another long-term occupation.