Though the Pakistani government has made it clear that they won't actually keep track of how many civilians are displaced in their offensive in the Khyber Agency, a regional official says that at least 100,000 from Khyber have arrived in Peshawar since the beginning of the month.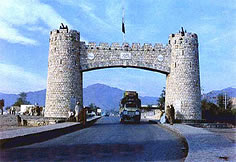 Pakistan's Frontier Corps launched an offensive against the region after militants attacked a police checkpoint in late August, killing 22 guards. Though a large number of the refugees likely did flee to Peshawar, there was no government provision for them and many fled to other nearby regions where they had families.
Pakistani force have been shelling the area and the paramilitary Frontier Corps has been launching offensives ever since. The offensive has generally gotten less attention than the attacks in the Swat Valley and Waziristan Agencies, and details about the damage done have been difficult to come by.
The Khyber Agency is home to the Khyber Pass, essentially the only significant border crossing with neighboring Afghanistan. Linking the major cities of Peshawar and Jalalabad, the pass sees much of the supplies for the NATO war in Afghanistan travel through it, and is often a target for militants.