Days after the UN-backed Election Complaints Commission (ECC) determined that there was "clear and convincing evidence" of fraud on a massive scale in last month's Afghan Presidential election, top opposition candidate and former Foreign Minister Abdullah Abdullah accused President Hamid Karzai of "treason" and called for a criminal investigation into the poll-rigging.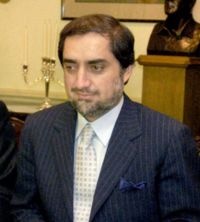 "The country will die because of this sort of thing," Abdullah cautioned, "fraud is the extension of this corruption which prevailed in this system."
Though Abdullah has repeatedly criticized the election result, this is the first time anyone in the opposition, let alone the leader, has proposed a criminal remedy for the pervasive fraud.
Although ballot stuffing to what Western officials are saying could be the tune of half a million votes would almost certainly net criminal charges in most nations, expectations in Afghanistan have gotten so low that the question recently has been if the Karzai campaign would have to face a run-off vote or if he'd simply be declared the winner outright.