Following the Friday announcement that the Pakistani government would relax its harsh curfews in the restive Khyber Agency, thousands of civilians from the region have fled. The government says it has no plans to keep track of exactly how many civilians have fled, nor are there any plans to set up refugee camps for the displaced.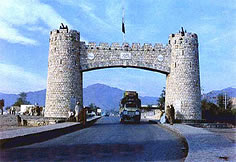 One private group, the al-Khidmat Foundation, has set up a reception camp to assist the displaced civilians, however, and has said it is considering setting up another camp to provide them with food and help them move further away from the conflict.
The Pakistani military has been launching a major offensive in the region since a late August suicide bombing along the Khyber Pass killed 22 security forces at a police checkpoint. Scores of "suspected militants" have been killed since then, and the military has been using attack helicopters and heavy artillery to shell the region.
Materially the only significant border crossing from Pakistan to Afghanistan, the Khyber Pass links the major cities of Peshawar and Jalalabad, and is the primary source of supplies for the international forces fighting in Afghanistan's ongoing war.
The pass, and in particular NATO's supplies, are often under attack. Earlier this year militants destroyed significant numbers of NATO vehicles and shipping containers stored in Peshawar, and the Pakistani government has intermittantly had to close the pass due to security concerns.