The charity group Swedish Committee for Afghanistan expressed outrage today in reporting a US attack on a remote hospital being operated by the group. The troops burst in to the hospital without explanation and conducted a full and rather violent search of the facility.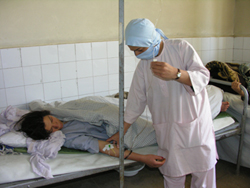 The troops reportedly tied up several employees and the family of some of the patients, ordered the bed-ridden patients out of their rooms and smashed down several doors, including the door to the malnutrition ward. They did not arrest anybody, but upon leaving ordered the staff to report anybody coming to the hospital to seek treatment before the treatment was provided.
NATO spokesmen confirmed the raid, but said they had no information about why it was done and refused to speculate. The United Nations cautioned that the raid was a potential violation of the Geneva Conventions, which insist that military personnel avoid operating inside medical facilities.
The charity says that the same hospital was involved in an incident in July, when private contractors escorting a supply convoy forced their way in and used the hospital to hide from insurgents. A US helicopter also attacked a small medical clinic in Paktika Province last week on the basis of a report that a wounded insurgent might be inside.