Last updated 9/5 7:30 PM EST
Pakistan's paramilitary Frontier Corps issued a statement today saying it had killed at least 57 suspected militants in the restive Khyber Agency, and destroyed an "important headquarters" of the suspects in a major offensive launched over the past week. The force also bulldozed 15 homes belong to 'extremists.'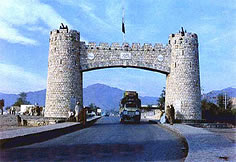 The offensive was in retaliaton for a suicide bombing last week at a police checkpoint along the Khyber Pass border with Afghanistan, which killed at least 22 border guards. That attack was said to be retaliation for a govt-backed US air strike against Tehreek-e Taliban Pakistan (TTP) leader Baitullah Mehsud earlier in the month.
Materially the only significant border crossing from Pakistan to Afghanistan, the Khyber Pass links the major cities of Peshawar and Jalalabad, and is the primary source of supplies for the international forces fighting in Afghanistan's ongoing war.
The pass, and in particular NATO's supplies, are often under attack. Earlier this year militants destroyed significant numbers of NATO vehicles and shipping containers stored in Peshawar, and the Pakistani government has intermittantly had to close the pass due to security concerns.