In an eight page confidential letter from Iranian envoy Ali Asghar Soltanieh to the International Atomic Energy Agency (IAEA), Iran denounced the US allegations of a covert nuclear weapons program as "baseless and false" and accused the US of using "forged documents" to make its case.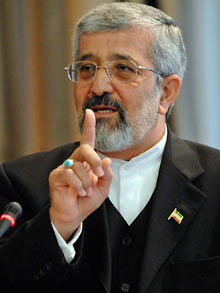 Ali Ashgar Soltanieh
The letter, which was obtained by the Associated Press, also slammed Britain and France for what it said was "ill will and political motivation" with which they dealt with Iran. The letter was said to be a response to an IAEA report which said unanswered questions remained, though they did praise Iran for improved cooperation.
The letter did not make it clear what the "forged documents" were, and while the US has been very public about its accusations it has been very secretive about whatever proof it may have to back them up. It could, however, be referring to the so-called "smoking laptop" the US obtained from the Mujahedeen-e Khalq (MEK).
The IAEA has said that there is no evidence to support the claim that Iran is seeking nuclear weapons, and they have repeatedly certified that none of Iran's enriched uranium is being diverted to any such use. Still, the US and other Western powers have repeatedly threatened "crippling sanctions" against Iran.