According to the Pakistani military's official statement, it killed 15 more "suspected Taliban" in the Swat Valley area, bringing the toll of its two days of strikes in retaliation for yesterday's suicide bombing in Mingora to 45.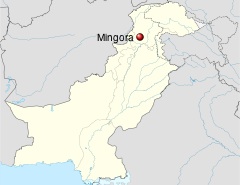 Yesterday's bombing saw at least 16 police cadets killed in the city of Mingora, the most major attack in the city since the military's declaration of "victory" in May. The Tehreek-e Taliban Pakistan has promised revenge for the recent retaliatory strikes.
The recent fighting is a stark reminder that though the military has claimed the offensive is over and urged the millions of displaced civilians to return to their homes, the area is far from back to normal.
Making matters worse, locals are complaining about the increasing number of women and children being maimed by the land mines and unexploded ordinances that are strewn all over the once sleepy valley since the offensive. Their homes and businesses in ruins, the Swatis that have left the crowded refugee camps around Peshawar are now flocking to field hospitals set up by the Red Cross to deal with the casualties of the explosives.