Both Iraq and Syria are insisting today that the worsening tensions between them are the fault of the other party. The two governments withdrew their respective ambassadors last week following an Iraqi government demand that Syria hand over top Ba'athists who went into exile following the 2003 US invasion. Iraqi FM Hoshyar Zebari today insisted the demand still stands.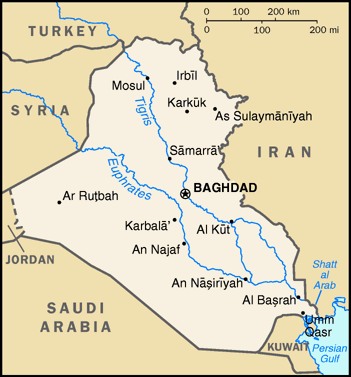 The ante was significantly upped yesterday when Iraqi state media broadcast a confession from an alleged al-Qaeda operative who claimed he was trained at an al-Qaeda camp inside Syria. Not only that, he claimed that Syrian intelligence officials were managing the camp on al-Qaeda's behalf.
Syrian President Bashar Assad sharply denied the charge, claiming the accusation was politically motivated and noting that Syria has had to play host to over a million Iraqi refugees since the US invasion. Zebari responded by saying Syria's refusal to hand over the suspects it demanded was "unfriendly."
Turkey's Foreign Minister Ahmet Davutoglu also commented on the situation, saying he was given information to back up Iraq's accusations against Syria, and said what he saw was "convincing." Davutoglu is in Baghdad, and will soon stop off in Damascus in an attempt to mediate the dispute between the two.