In a move that has seemed increasingly inevitable in recent days, Ammar al-Hakim, the son of the late Supreme Islamic Iraqi Council (SIIC) leader Abdul Aziz al-Hakim has been appointed as the new leader of the party and its council is expected to formally endorse the move tomorrow.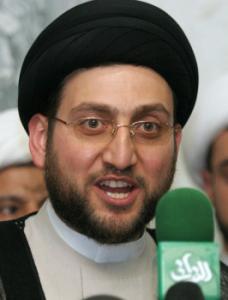 The move has been expected since Saturday, when Hakim's will was read and it was revealed that he wanted his son to take the reins of the SIIC, Iraq's largest political party and the most influential in the new opposition bloc formed last week to challenge Prime Minister Nouri al-Maliki's Dawa Party in January's vote.
Previously officials had said Ammar, who has virtually no experience in politics, hadn't even been considered as a successor to his father. The enormous shadow cast by the influential elder Hakim, however, has made replacing him a monumental task for virtually anyone in the party.
Ammar, a former professor at a university in the Iranian city of Qom has done little to establish himself as a figure in Iraqi politics, but he was arrested in early 2007 by US forces when crossing the border to neighboring Iran (where his father had been while battling the lung cancer the ultimately killed him). The US initially claimed he had an expired passport, but later conceded that was not the case and apologized for the arrest.