Nearly two months after declaring a general victory in the war in the Swat Valley, and three months after declaring victory in the region's main city of Mingora, the Pakistani security forces are still struggling with the militants in the restive region, and a suicide bomber killed at least 16 police cadets in Mingora and injuring an unknown number of others.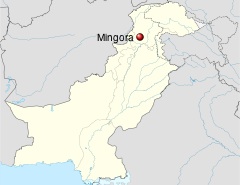 The Pakistani military responded by launching air strikes against suspected rebel hideouts, killing at least 30 people it declared "rebels." There was no indiciation if those killed were affiliated with the attacker, however, and indeed no group has yet claimed credit for the strike.
The Pakistani military's offensive in the Swat Valley killed hundreds of civilians and drove millions from their homes into refugee camps in and around Peshawar. It is expected that the reconstruction of the region will take a minimum of three years and cost billions of dollars.
But while at least most of the Swatis have been allowed to return home, the level of violence has really only receded to the pre-offensive levels, and as today shows militant groups with an axe to grind against the Pakistani government are still as active as ever, meaning that despite the enormous destruction of the offensive very little was ultimately solved.