The election commission that has been slowly counting the results of last week's Afghan election says that with 17% of the polling stations counted, President Hamid Karzai's lead is widening, though he is still well short of the 50 percent needed to avoid a run-off.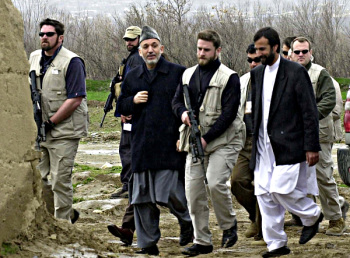 What if anything the count means so far is unclear, as half of the nation's provinces haven't had any votes counted yet while the remote Nuristan Province had at least some votes counted, though a US helicopter accidentally dropped several of its ballot boxes into the Hindu Kush.
But while the results trickle in, the growing reports of massive voter fraud keep on coming, and now complete with videos of ballot box stuffing and children filling out ballots en-masse. While the count is likely to take weeks, the concerns over the vote's legitimacy are only going to increase.
Even the vote count is drawing questions, as presumptive third place finisher Ramazan Bashardost says that the Electoral Complaints Commission is breaking the law by releasing the partial results before completing its fraud investigations.
Raw data obtained by the media predicted a Karzai "landslide," and one of Karzai's top ministers also claimed Karzai won with an enormous majority. So far however, the official count seems more in line with the pre-vote polls, which predicted a run-off vote.