The US State Department says that envoys from Israel and the Palestinian Authority are close to reaching a deal to renew the long-stalled peace negotiations, something the Obama Administration has sought despite considerable pessimism among the two participants.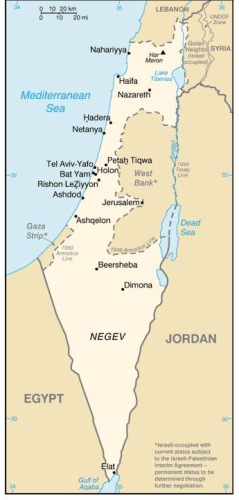 Israeli officials say they have almost reached an understanding with the US on settlement disputes. Israel will agree to freeze new construction in the West Bank for 9-12 months, not including East Jerusalem, and all the construction projects going on now will continue.
But comments only yesterday from Israel's Foreign Minister Avigdor Lieberman, who one would have thought would be an instrumental part of these peace negotiations, sounded a considerably more pessimistic note. Lieberman condemned the notion of a peace deal, saying there was "no chance" and that there wouldn't be peace in the next 16 years.
Prime Minister Netanyahu, who is visiting Europe this week, insists that a key portion of any peace deal would be international agreement that Israel will forever rule over the entire city of Jerusalem including the occupied East Jerusalem where his government has been feverishly constructing settlements and evicting Arabs in recent months.