Perhaps sensing that his image could use some polishing with three days left before the nation's presidential election, Afghan President Hamid Karzai took part in a debate which was televised on state-run media. It gave the president the opportunity to tout his various 'successes' in the nation, still one of the world's poorest and most violent eight years after the US invasion.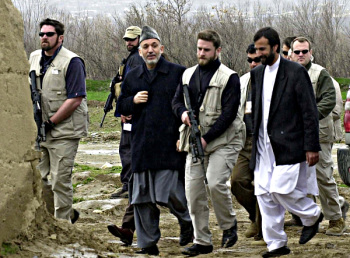 Karzai's appearance had everything, including bitter clashes with rival Ramazan Bashardost, who publicly attacked the president for the widespread corruption of his government. The only thing missing was Abdullah Abdullah, Karzai's top rival in the vote, who didn't show up for the debate.
The rising security risks and the chance that large numbers of Afghans will be unable to cast votes has given rise to serious questions about the legitimacy of the upcoming election, something the US has insisted will be vitally important to the continuation of the eight-year long occupation.
Officials also clarified the reports of a secret ceasefire with the Taliban, which were claimed by Karzai's brother Wali last week. Rather than a formal deal with the group, the officials say deals were made with a handful of specific warlords to disobey the leadership's order to launch attacks. They confirmed that payments of unspecified sums of money were part of the deal.