A suicide truck bomber rammed into a police station in Ingushetia's city of Nazran today, killing at least 20 police and injuring 138 others. Russian media report the strike involved a stolen vehicle and the equivalent of 400 kg of TNT.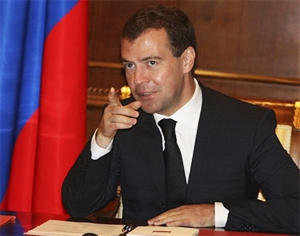 Russian President Dmitry Medvedev publicly condemned officials over the attack, saying it was "a result of the unsatisfactory performance of the republic's law enforcement agency." He said police knew the vehicle was stolen and knew about the planned attack and did nothing to prevent it. He then announced that he was sacking Ingush Interior Minister Ruslan Meiriyev.
The attack was the deadliest in the city of Nazran since the 2004 attack by Chechen separatists which killed at least 92. The region also saw an attempted assassination of President Yunus-Bek Yevkurov in June, when an attack on his motorcade left him in the hospital.
Ingushetia is one of 21 nominally autonomous republics which are federal subjects of Russia. The region is one of the poorest and most violence-ridden regions of the nation and has been coping with a low-level insurgency led by the Islamist Ingush Jamaat since 2007. It remains unclear if the group is responsible for today's attack.