The Obama Administration has today asked the Supreme Court to overturn an appeals court decision which would require the Pentagon to release dozens of heretofore unseen photos of the abuse of prisoners in US military custody, claiming the release would pose a significant risk to the military.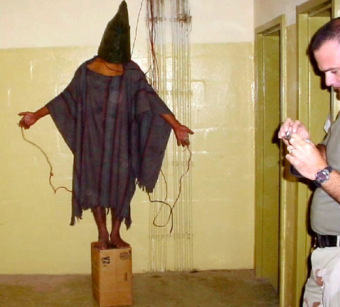 The photos of abuse at several prisons have been a matter of no small controversy. The Pentagon agreed with the judge that the photos could be safely released in April, but several weeks later President Obama insisted that the photos would have to remain secret because they might "further inflame anti-American opinion."
Officials say that the reversal in the administration's position came at the behest of Iraqi Prime Minister Nouri al-Maliki, who reportedly predicted that "Baghdad will burn" if the photos ever see the light of day and warned it could delay the US pullout.
Though President Obama had previously claimed that the photos didn't contain anything sensational, the Justice Department filing with the Supreme Court reveals that several of the photos include soldiers pointing guns at hooded prisoners and one includes a soldier "acting as if" he is anally raping a detainee with a broom handle. The ACLU has been spearheading the effort to secure the photos' release.