In an interview with The Times, Britain's incoming military Chief of Staff General Sir David Richards has cautioned that the ongoing military operation in Afghanistan could last for 40 years. The news comes after the deadliest month the British military has experienced since the 1980's, and as three more British troops were killed in an IED attack Friday.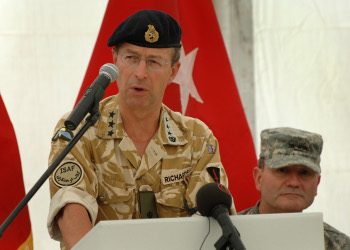 With the British government's attempt earlier this week to sell the public on the increasingly unpopular war with an official defense ministry policy statement, officials have been remarkably candid about just how long the conflict is going to take, and last week Ambassador to the US Sir Nigel Sheinwald likewise said the war would take "decades."
Sir David's comments today however reveal a surprising confidence about the prospect of continuing the war that long, declaring that there was "absolutely no chance" NATO would leave the country, adding "we made this mistake once. Our opponents are banking on us doing it again, and we must prove them wrong."
This confidence is perhaps warranted in Britain, where the ruling Labor Party is looking at decades of war without blinking and the opposition is running on a platform of escalation. Despite comments from the hawkish new NATO Secretary General, however, many other NATO nations are looking to either end their commitments or shift to non-combat roles. It seems unlikely they're going to be staying the course in 2050, even if Britain is.