At least 46 civilians were killed today in a series of bombings across Iraq, which has targeted the country's Shi'ite majority and did enormous damage to a Mosul-area mosque full of worshippers. The toll is expected to rise as bodies are recovered from the rubble, and over 100 are estimated to be wounded.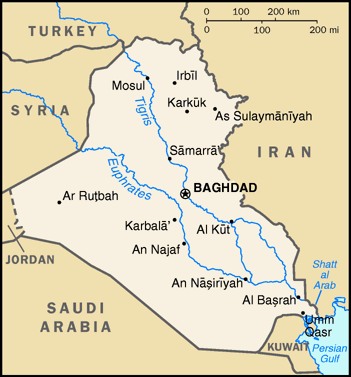 The Rashidiyah Mosque, just north of Mosul, was targeted by a car bomber, killing at least 38 and injuring at least 88 others. According to police many of the injured are in critical condition and some are not expected to survive. The mosque was in the neighborhood of the Shi'ite Turkmen minority of Iraq.
Three other bombings took place across Baghdad, targeting Shi'ite pilgrims returning from Karbala. The attacks killed eight more and injured at least 24 others. It was unclear if all the victims of the attacks were Iraqi, but it is common for pilgrims from neighboring Iran to make the trip to Karbala.
Iraqi officials have recently speculated that the growing number of attacks against Shi'ites across the nation signals a renewed campaign by al-Qaeda in Iraq, a group which had been relatively quiet since its 2006 bombing campaign.