In an interview posted today, top al-Qaeda figure Ayman al-Zawahri said that the terrorist group's 2006 truce offer to the United States is still on the table, and advised President Barack Obama to respond if he wanted to reach an understanding with the group.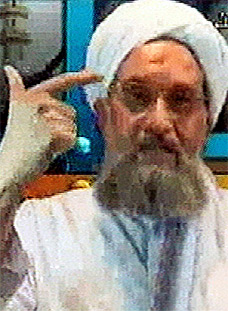 In early 2006, Osama bin Laden offered a long-term truce involving a Western pullout from Iraq and Afghanistan, saying both sides could enjoy stability and security from such a deal. Zawahri added the condition that the US stop backing what al-Qaeda considers corrupt regimes in the Muslim world.
The Bush Administration rejected the truce offer, with Vice President Dick Cheney saying he assumed it was "some kind of a ploy" and that the US would never sit down and negotiate with al-Qaeda, but would have to destroy them.
Three and a half years later, the wars continue and al-Qaeda appears no closer to being destroyed, but it seems incredibly unlikely that the Obama Administration will countenance any plan to end that conflict that includes al-Qaeda.