Pakistan's Supreme Court today declared that the six weeks in 2007 under which former President Pervez Musharraf exercised "emergency rule" were illegal, and invalidated all the actions taken during that period. This included the replacement of several top judges by Musharraf during that period.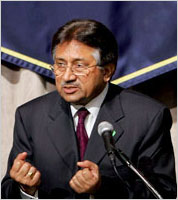 Experts say that the decision could clear the way for the Pakistani government to initiate a case of "high treason" against Musharraf, who seized power during a 1999 coup d'etat and ruled the nation until August of last year.
Supreme Court Chief Justice Iftikhar Muhammad Chaudhry, who was ousted by Musharraf in 2007 and reinstated after massive rallies earlier this year, said it was the duty of the court to remain neutral regarding the status of the former president and that it was the job of the Pakistani Parliament to decide whether or not to charge him for crimes committed while in power.
Musharraf has repeatedly defended the decision to impose martial law on the nation, citing the twin perils of terrorism and an activist judiciary. The move enormously damaged his popularity however and almost certainly played a role in his dramatic defeat in the 2008 election.