In a speech today Iranian President Mahmoud Ahmadinejad publicly attacked conservatives he described as "ill-wishers" and denied reports of a growing rift with the Supreme Leader Ayatollah Ali Khamenei.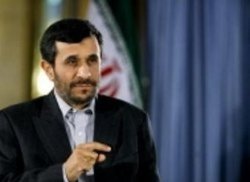 Ahmadinejad publicly clashed with Khamenei earlier in the month over the appointment of Esfiander Rahim Mashaei to the position of First Vice President, initially refusing to dismiss Mashaei despite direct orders from the Supreme Leader. Despite this, Ahmadinejad maintains that the relationship with Khamenei is "like that of a father and son."
After being declared the winner of a disputed election over reformist candidate Mir-Hossein Mousavi, President Ahmadinejad made numerous enemies on the right over the Mashaei appointment. Ultimately this has left the president, scheduled to be inaugurated into his second term on Monday, with few allies and a growing number of enemies.
Despite this Ahmadinejad has remained defiant, and said that the hopes of the "ill-wishers" will ultimately end up fruitless.