Pakistani police today arrested top cleric and leader of the Tehreek-e Nifaz-e Shariat-e Muhammadi (TNSM) Sufi Muhammad at home on the outskirts of Peshawar. The police also arrested members of his family during the raid. Officials say his arrest stems from his failure to publicly denounce terrorism.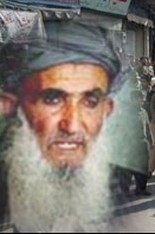 Muhammad had earlier this year brokered a peace treaty in the Swat Valley, which collapsed following clashes between the Tehreek-e Taliban Pakistan (TTP) and the Pakistani military, which culminated in months of open warfare which have destroyed much of the valley and driven millions from their homes.
The cleric's TNSM, the most powerful group in the valley, formally remained neutral during the clashes, and Muhammad has attempted to broker a ceasefire. Some Pakistani officials however have accused the TNSM of privately backing the Swat Valley TTP whose leader Maulana Fazlullah, is Muhammad's son-in-law.
Yet Muhammad's arrest, his second in as many months, appears to have been somewhat premature, as Interior Minister Mian Ifthikar says they are only now beginning an investigation regarding his role as a mediator between the TTP and the Pakistani military and that any charges they will levy against him will be based on what determinations, if any, are reached from that investigation.