Still reeling from a series of scandals since his disputed reelection last month, Iranian President Mahmoud Ahmadinejad again reversed a key decision, this time backing off reports that he planned to sack four members of his cabinet in a major shakeup.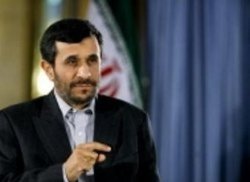 Ahmadinejad had reportedly sparred with the ministers over the appointment of long-time ally Esfiander Rahim Mashaei to the powerful position of First Vice President, a scandal which has continued to provoke criticism from hardliners in the country.
The outspoken president was forced to abruptly reverse course, however, when it was pointed out that according to the Iranian Constitution the replacement of more than half of the cabinet required him to seek a new vote of confidence from Parliament. Only Intelligence Minister Gholam Hossein Mohseni Ejeie's dismissal remains in effect.
This may not be the end of the mastter, however, as Culture Minister Mohammad Hossein Saffar Harandi has said he is resigning over the conflicting reports of his dismissal. A confidence vote in Parliament would likely be extremely difficult at the moment for President Ahmadinejad, who faces harsh opposition from Reformists who claim he rigged the election and public condemnation from right-wing clerics for his defense of Mashaei. For now that vote appears to have been averted.