Appointed on Thursday night as the "First Vice President" of Iran (the most powerful of several vice presidents the nation has) by President Mahmoud Ahmadinejad, Esfandiar Rahim Mashaei, the former vice president in charge of the state tourism board, was forced to resign today amid growing outcries from the nation's hardliners.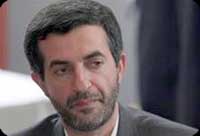 In July 2008 at a Tehran conference, Mashaei declared that "no nation in the world is our enemy, Iran is a friend of the nation in the United States and in Israel, and this is an honor." The comments, in light of repeated threats of attack by Israel, were criticized by several high ranking Iranian officials.
The controversy was remarkably slow moving. There was little if no criticism of Mashaei's comments at the time, but only several weeks later after they were reprinted in the Israeli press.
Mashaei, a relative of President Ahmadinejad by marriage and a long-time ally, announced today that he "no longer wanted the job" following criticism from hardliners that he was unfit for the position. Ahmadinejad also faced condemnation from top clerics for making the appointment.