While defending detainee Ramzi bin al-Shibh in one of the military tribunals at Guantanamo Bay, military defense lawyer Commander Suzanne Lachelier declared "the government can't hide the fact that they used sleep deprivation …" that's as far as she got.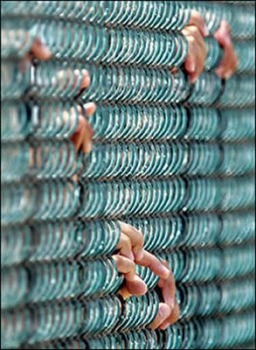 At least as far as the spectators and media were able to discern, as military censors sprang immediately into action and cut her microphone off. The military has silenced the defense lawyers several times in what will likely be the closest thing many of these detainees ever see to a trial, claiming they are protecting "classified information."
Captured in 2002 in Pakistan, Shibh is accused of being a key al-Qaeda operative who played a role in the September 11 terrorist attacks and the 2000 USS Cole bombing. Al-Qaeda has also released a video showing Shibh with leader Osama bin Laden. Lawyers have sought to argue that he was mentally unfit to stand trial owing to his treatment in custody.
Guantanamo Bay's censors have a long history of heavy-handed information control that goes beyond silencing defense lawyers during the tribunals. In 2008, the US censored a drawing by one of the detainees describing the force-feeding procedures at the military prison.