Palestinian Authority President Mahmoud Abbas today declared a total ban on the al-Jazeera television station, preventing it from operating in the West Bank and ordering security forces to raid its offices in Ramalllah.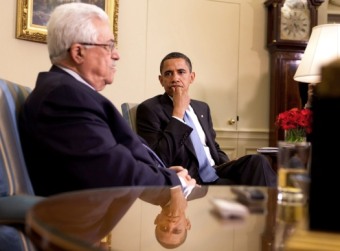 The organization's Information Ministry said the ban was a result of a report aired on the channel yesterday, in which a senior official in the Palestinian Liberation Organization (PLO) publicly criticized Abbas and accused him of being aware of an Israeli plot to assassinate Yasser Arafat.
The statement said the broadcast amouted to "incitement agianst the Palestinian Liberation Organization and the Palestinian Authority." The ministry also says they will take al-Jazeera to court over the broadcast, and that all its operations will be banned in the meantime.
For their part, al-Jazeera is "stunned" by the ban, and has noted that the same report was aired by a myriad of other media outlets who were not sanctioned for it. The Foreign Press Association defended the report as well, and criticized the Palestinian Authority for violation of freedom of the press.
Widely popular across the Muslim world as a reliable alternative to their own state media broadcasts, al-Jazeera has often run afoul of governments for reporting on things they would prefer to be kept secret. The Israeli government placed an "embargo" on the station during its war on the Gaza Strip, and publicly condemned them for showing photos of the destruction in Gaza.
The United States government has also been an opponent of the station, particularly during the Bush Administration when President Bush reportedly had to be talked out of attacking its Qatari headquarters by British Prime Minister Tony Blair. The US blamed al-Jazeera for a negative international image of the Iraq War, and the US-backed Iraqi government even banned the station in 2004.