President Barack Obama today revealed to CNN that he has ordered officials to investigate the infamous Dasht-e Leili massacre which occurred in late 2001, saying it had never been properly investigated.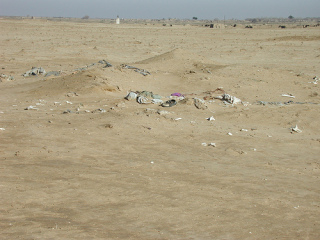 According to Physicians for Human Rights, one of several groups that investigated the killings, up to 2,000 Taliban prisoners captured in the US invasion were killed in the custody of General Abdul Rashid Dostum. Many were suffocated to death in containers, while others were shot. Investigators say US troops were present during the massacre.
But as mass graves were discovered and rights groups issued reports, the Bush Administration is said to have repeatedly discouraged any official investigations by the US government into the massacre. The Red Cross had been calling for inquiries since late 2001, but was rebuffed by coalition forces.
The issue was seriously complicated by Gen. Dostum being on the CIA payroll at the time. Dostum has a long history of collaborating with invading forces, getting his military career started with training in the Soviet Union and taking a job in the Ministry of State Security, opposing the then-US backed insurgency. Dostum turned on the communist government after the fall of the Soviet Union, then quickly turned against the Taliban government that replaced it.
Since the US invasion Dostum has served in several key positions, including chief of military staff before falling out of favor. He is now a critic of the Karzai government and the US invasion forces, and claims he could destroy the Taliban in six months if given the opportunity.