US Predator drones launched an attack on a compound in South Waziristan's Zangara area today, killing at least 16 suspected militants and wounding around 30 others. The attack targeted a former office of Tehreek-e Taliban Pakistan (TTP) leader Baitullah Mehsud, but it does not appear that he or any other high profile targets were present at the time of the strike.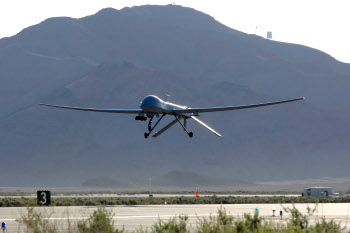 It is the second US drone strike in the area in the past few days, the previous one killing at least 17 and wounding 27 others on Friday. The Pakistani military has been launching a massive military offensive and is reported to have some measure of control over the targets, though the civilian government denies this and publicly condemns each strike.
Mehsud is the target of both the Pakistani offensive and many of the US attacks. The high-profile TTP leader has claimed credit for a myriad of terrorist attacks and suicide bombings in Pakistan, and has threatened to launch attacks against the United States in retaliation for the drone attacks.
Late last month, the repeated attempts on Mehsud's life culminated in the US attacking a funeral procession in South Waziristan, killing at least 80. The attack failed to kill Mehsud or any other commanders, but did manage to kill at least 35 civilians.
The imprecise nature of the attacks have anger the region's civilian populace and led the Pakistani government to repeatedly call for their halt. At the same time it has struggled to deny persistant media reports that they have a 'secret understanding' with the US to allow the strikes.