President Barack Obama met with his Russian counterpart Dmitry Medvedev today, and the two signed a preliminary agreement on their mutual desire to cut their respective nuclear arsenals, though the two sides appeared to remain far from agreeing on any concrete numbers.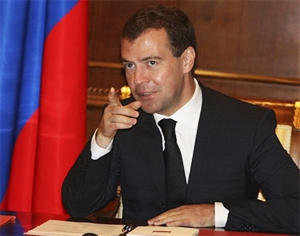 The overall tone on the meeting, however, suggested that the efforts at rapprochement still have a long way to go. Distrust between the two sides, particularly on the issue of the US missile defense bases in Eastern Europe, appears to be setting the overall tone.
US-Russian relations have never been particularly cordial, but hit a post-Cold War low after the brief August War between Russia and Georgia. Since then the Obama Administration has sought to 'reboot' ties with Russia, chiefly centered around their mutual interest in arms reduction.
Last 5 posts by Jason Ditz