Addressing the weekend arrest of several local employees of the British Embassy in Tehran in his weekly sermon, Ayatollah Ahmad Jannati today claimed the staffers had 'made confessions' with regards to their activities, and would be put on trial, though he did not say what the charges would be.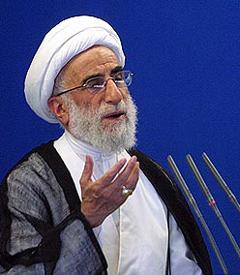 Ayatollah Jannati
The eight staffers were arrested over the weekend and accused of playing significant roles in the post-election violence in Iran. The British government expressed outrage over the arrests and demanded their immediate release.
The European Union also supported the British position and labeled the arrests an attempt at "harassment or intimidation" of staff working at embassies. Iran has accused the British government, among others, of backing the massive protests the nation saw in the wake of its disputed election.
In his sermon, Jannati claimed the British government had been plotting the protests since March, and calls on those involved in the protests "to repent and ask God to forgive them." He also cited Ayatollah Khomeini's comment that anyone who disrupts national unity "has committed treason against the Islamic Republic."