Though the US military denied involvement in the killing of the Kandahar Province police chief and eight other members of the province's security forces, Afghan President Hamid Karzai issued a harshly worded statement today in which he blamed contractors for the coalition forces, and demanded that they be handed over.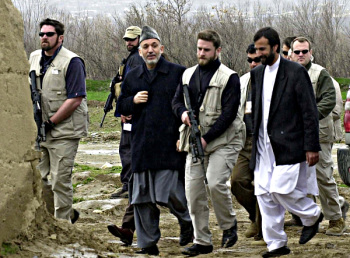 The clash reportedly started when the contractors stormed the office of the provincial attorney general and demanded the release of a man being held for forgery. The police chief was called in and brought the other police with them. An argument ensued and a contractors killed the forces.
National police arrived in the midst of the conflict and Kandahar's provincial governor says that 41 of the contractors have been disarmed and arrested. There was no news of any casualties on their side or if any remain at large, but the contractors apparently sought refuge at a US base after the killings.
With only a few weeks left before the Afghan elections, the killings will likely put an uncomfortable spotlight on US forces and their contractors. It may also raise further doubts about Karzai, given how little affect his repeated demands for changes in the behavior of the international forces and their subordinates has had.