Just days after causing a stir in approving more construction in the West Bank, Israeli Defense Minister Ehud Barak is reportedly planning to propose a three-month halt to new settlement construction in the West Bank in an attempt to find a compromise with the Obama Administration, which has opposed all construction.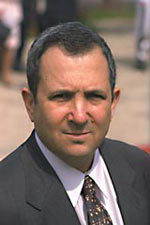 Barak has insisted the plan isn't fully finalized but even the mention has drawn public condemnation from members of the ruling Likud Party and other members of the nation's right-wing coalition government. The official position of the Israeli government has been that construction for "natural growth" will have to continue no matter what.
The question of settlement expansion is likely to be one of the major topics of discussion in the upcoming meeting between Barak and US envoy George Mitchell. Barak is expected to try to reassure the US that Israel has no intention of creating new settlements.
Israel has been pressured by not only the US, but in recent days by the Mideast Quartet and the G8, to stop freeze all settlement activity while the peace process moves forward. Officials from the Netanyahu government have dismissed the calls.