Taking a particularly confrontational tone just two days before the deadline for US troops to leave Iraq's cities, the nation's Defense Minister Abdel-Qadir Obaidi went on state television to literally dare terrorists to start launching more attacks.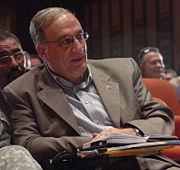 "I challenge terrorists to attack any police station. We are now the stronger side," Obaidi declared, following a week that saw hundreds of Iraqis slain in terrorist attacks across the nation and growing concern over whether the Iraqi government was up to the challenge of providing security across the nation.
Gen. Ray Odierno announced today that the US forces have already withdrawn from Iraq's cities, as required by the Status of Forces Agreement (SOFA), and given the enormous violence seen in recent days the wisdom of Minister Obaidi in daring the insurgency to launch even more will doubtless be questioned.
But more than a sign of unwarranted confidence, the comment is an expression of how little the rising bodycount means to either the Iraqi government or the US forces and their narrative that the nation is progressing well. Police stations have indeed been repeatedly targeted in recent weeks, and if the Iraqi government couldn't prevent them before, it's hard to imagine how that would have changed today.