The Pakistani military and the Tehreek-e Taliban Pakistan (TTP) traded ambushes today across the North and South Waziristan Agencies of the Federally Administered Tribal Areas, leaving at least 22 soldiers killed, and injuring dozens of others.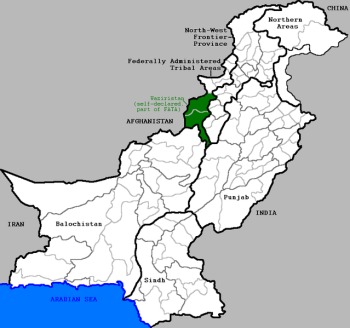 The largest loss for the military was in North Waziristan, when an ambush of a convoy killed 20, including a senior officer, and 35 were injured according to military spokesmen. A local TTP commander took credit for the attack, though he claimed that his forces had killed 60 and that 15 vehicles were destroyed.
Earlier this month the Pakistani military launched an offensive in South Waziristan, primarily aimed at TTP leader Baitullah Mehsud. The Pakistani government has offered $600,000 for Baitullah's capture, on top of the $5 million already offered by the US. Pakistan's civilian government has promised to confront the TTP across the nation.
But while the Pakistani military appears to have seen some success in its offensive in the Swat Valley, driving one of the TTP's smaller auxiliery groups out of the region in addition to forcing millions of civilians into refugee camps, today's clashes suggest that the bulk of the group's leadership, which is centered around Waziristan, are perfectly willing to directly confront the military in the less densely populated, but much harder to control region.